At the end of November I started the winter training with the annual cadre reunion of the national squad. On the basis of a 4 x 1'000m test we determined the threshold speed. Our torso stability was also tested, which fortunately improved significantly after a year of poor performance a year ago. Due to the new coach constellation there was a lot to discuss. On Sunday we enjoyed a longjogg in wonderful weather and snow.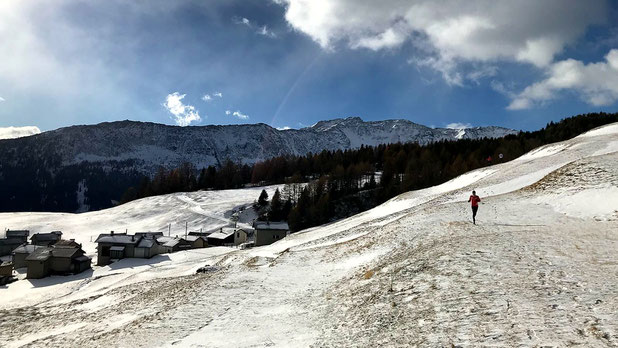 A week later there was another special longjogg. With the newly founded OLV Baselland Elite Team we met for the first time officially and ran from Olten to Sissach. Afterwards there was a fondue at Holmberg's and we discussed about the new team and the coming season. I am very much looking forward to the new opportunities and to the highlight, the Jukola in Finland!
One of the "season goals" of the OLV Baselland Elite Team was to annoy the OL Norska in the night-o-races "Bern by Night" at their home base. So some of us started in Lattigen near Spiez during a snowstorm. In the beginning it was hardly possible to get an overview because of some forks and very bad visibility. After the start phase, I ran together with my team mates Käspi Hägler and Chrigi Meier and on the basis of the snow tracks one could assume that we are right at the top. Thanks to forking luck we stayed together almost the whole race and received support from Florian Howald towards the end. For the second last position we caught up with Matthias Kyburz. Even though we lost against the two world champions in the final sprint, it was a great race and a surprising team result (places 3 to 5).
In the middle of December there were still some longruns with the regional squad. On the second Advent we ran from Ormalingen to Rheinfelden and regenerated ourselves in the Sole Uno. On the third weekend of Advent we traveled to the Black Forest for the Longrun-Weekend. On Saturday I did the training on cross-country skis to protect the calf. On Sunday we enjoyed the snow-covered forests. Because the trails were not prepared, we ran either on the cross-country ski trail or in deep snow.