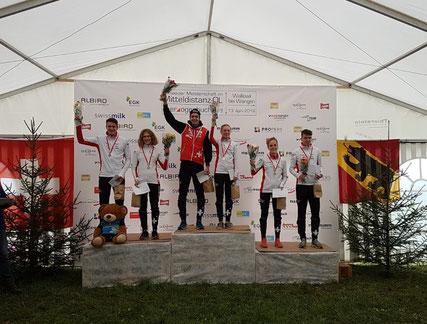 In about two weeks the Junior World Championships will start with the sprint competition. Last week I was for the last preparation in a training stay in Silkeborg and tried to improve my feeling for the fastest route, to get used to the vegetation and to climb the steep climbs again. The anticipation is already huge. But I can't hide that I already get nervous when I think about the fact that it will start soon.
But first a short summary of the spring season.
After the perfect start of the season with the gold medal in the night orienteering, I won again a short time later over the middistance-SM. In the very flat Tannhubel I managed an almost perfect race. Of course, this start of the season gave a lot of selfconfidence for the following races.
The test runs are briefly told: Good and clear enough for the selection, but unfortunately I never showed a really convincing run. In the first two testraces I ran a bit too safe and afraid. I wanted to make mistakes impossible and constantly lost too much time. On the second testrace weekend the section times fit, but I made too many mistakes. But the running selection race clearly showed me that I had improved physically and I ran 85s faster up to my training hill.
After the semester examinations at the university I travelled directly to Tampere in Finland to the legendary Jukola. For Järla Orientering I ran the first leg. Warming up at sunset, starting with 2'000 other runners, having the race relatively well under control and finishing with the first group in 19th place 24 seconds behind was super exciting and memorable! As a team we finished 30th.
So it's almost time! I hope that I will travel to Silkeborg with the attitude, that the JWOC is a chance to show my skills as good as possible and that I can and should have fun. After the sprint in a probably exciting residential quarter and park area, it continues on Monday with a hard long distance. On almost 10km 620 steep meters of altitude have to be completed. On Wednesday we will continue with the qualification for the middle distance final, which will take place on the following day. The final race will be the relay where I will run the first leg for Switzerland 1. After me Reto Egger and Fabian Aebersold will follow.