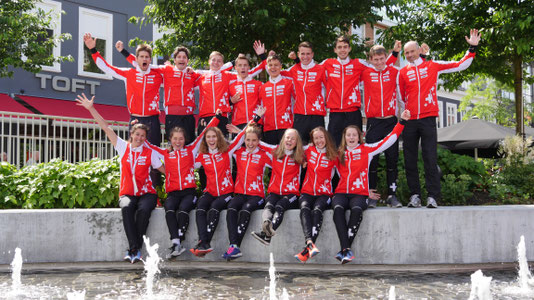 It's like a child who's really looking forward to Christmas. It counts how often it has to sleep, decorates, makes Christmas cookies and imagines how beautiful it will be. And when the festivities are over and the Christmas tree has also lost the last needle, it may even be a little sad, because Christmas was beautiful, but not as perfect as it was imagined. And what can you look forward to now?
 It was a bit similar for me after this Junior World Championship.  It was a great time with a really great team, very well organized competitions with many "hopp Schwiiz" shouts in the finish area, exciting terrain and good runs on my part. With 9th place over the long distance, 4th place in my Heat in the qualification for the middle distance, 10th place in the middle distance final and 4th place and best time on the first course in the relay I could show an impressive consistency in the forest competitions. No major mistakes over 30s happened to me. The performances were very good.
Nevertheless I was slightly disappointed in the following days. The reason is mainly that I assumed before that if I would run like this, I would be ranked better. I was hoping for a diploma in an individual race and I didn't achieve that. Firstly, my assessment of what result would be possible with good performance on my part was probably slightly wrong. There are various reasons for this, which can also be understood in retrospect. Second, the good runs lacked that certain extra. In the long distance I ran far too often straight, collected a lot of altitude meters and wasted energy, which I lacked in the end. In addition some smaller mistakes crept in. In the middle distance I was already looking for the second control 20s and lost my nerves a bit after the arena passage. Thirdly, I didn't lack much for a better ranking.  In the long distance I lost 43'' on a diploma and 1' 33'' on a medal after 69' running time. In the middle it was even narrower.  I missed 9'' for a diploma and 50'' for a medal.
Either way, I am really grateful that I was able to complete my preparation practically exactly as I planned.  The injury devil was very kind to me, the studies could be optimally combined and I received great support from many people in many different ways. A huge thank you to everyone who supports me on my way!
picture: Christian Aebersold
results, maps, GPS, aftermovie: www.jwoc2019.dk